Why Pinterest is one of my favourite apps
//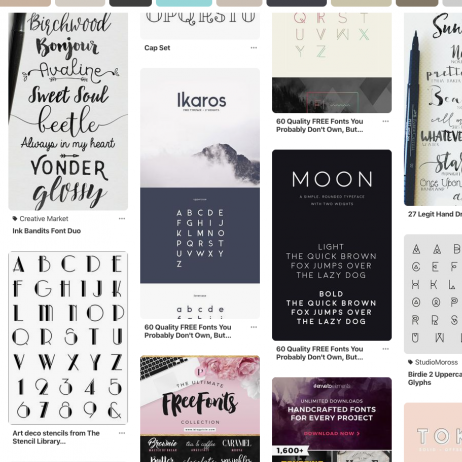 One of the most frequently used apps on my phone, at the moment, is Pinterest. Ever since discovering it; it is my go to for ideas and inspiration. It is great to look back on something I previously pinned, whether it be a recipe for a cake I might bake for my next Factor 3 Friday cakes, or my Home Ideas board, which gets a lot of use, of things I want to create or buy for my home. I even use Pinterest for inspiration on design jobs I am working on.
If you are a designer like me, then I am sure you will have discovered Pinterest already, but if you are new to the platform and want to learn more about it, then here are a few of the things that I enjoy most about it.
Creating boards for ideas and inspiration
Pinterest gives you the ability to pin pictures and links to create your own custom-made, online pin-boards. These boards showcase collections of images and ideas that you like and want to share.
The images you collect can be taken from Pinterest, by simply clicking on the 'save' button which appears when you roll-over the image. Alternatively, you can save images from external sources – e.g. third party websites by adding the 'Pin-it' button to your web browser or by using the site's own Pinterest share button, if it has one installed.
You can create multiple boards. So, as a designer, you could create different boards based on the types of design work that you mainly do e.g. brand identity, packaging etc. You can look at other people's boards for inspiration or search for topics like colours, logos, typefaces, website design etc… the list is endless. You can then create your own boards for these categories or any others that you feel would be useful.
Once you're up and running, you'll have a collection of your favourite design ideas that you can go back to, at any time, whenever you're stuck for inspiration.
Building and sharing a portfolio of work
Most companies and designers have websites which showcase their work. But you could also use Pinterest to do this.
Pinterest gives you the opportunity to host and share your own work with the site's 250 million monthly users (Source: Pinterest) – a significant number of people that your work could potentially be exposed to.
You can send potential new clients to your Pinterest portfolio so they can see the range of work that you do. You can cross-promote your Pinterest account on other social channels, to encourage your follower base on these platforms to find and share your work on Pinterest. You can even use Pinterest to drive traffic back to your website if you have one.
With Pinterest you can have either a business or a personal account. A personal account allows you to create boards, share and follow other people / boards that are of interest and, you will be able to see how many shares your designs have received. But, if you want to take advantage of some of the extra features of Pinterest e.g. Promoted Pins / Rich Pins or if you want to dive a bit deeper into the analytics, you would need to have a business account.
At Factor 3, we have a Pinterest business account which features a selection of boards covering things we have created e.g. Infographics (see below) and Blog Articles right through to boards for inspiration e.g. Office décor inspiration: