JCB Paint® – One Tough New Paint. Everything Covered™
//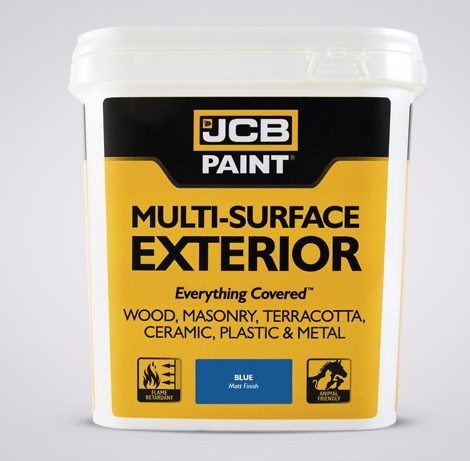 It's not often you get to work on a project that has the potential to shake the market, but that's exactly what happened when we were introduced to QXE Industries Ltd and learned of their ambitions to launch a new brand of outdoor paint with extraordinary USPs.
Their ambitious goal is to become the go-to brand for all outdoor paint applications – from sheds, barns, stabling and fencing to masonry, decking and garden furniture.
The paint itself is remarkable – with properties that deliver tangible benefits to home DIYers and garden-enthusiasts as well as the commercial sector. With performance benefits like fire retardancy, water, mould and stain resistance and non-toxicity coupled with its unique ability to cover just about any surface with its high opacity, this new paint has genuine potential to be a big-hitter in the exterior paint market. The paint also comes packaged in a revolutionary, fully recyclable 'bag-in-a-tub' which is easier to open, use and has superior environmental credentials.
Even with all these appealing qualities, it's difficult to launch something new (by a start-up company) into a marketplace saturated by established brands such as Dulux, Cuprinol, Sandtex, Ronseal, and Hammerite. But QXE had an ace up its sleeve. To ensure their new paint would be taken seriously, they had agreed a licensing deal with a supremely tough outdoor brand that provided the perfect fit with the product's unique credentials: global giant JCB.
The JCB brand is synonymous with heavy industry and they are one of the world's top three manufacturers of industrial vehicles, machinery and equipment, employing around 12,000 people over four continents. If you were asked what associations the brand conjures up, you may come up with words like tough, durable, strong, trusted, straightforward and reliable – perfectly aligned with the paint's unique positioning credentials.
QXE initially briefed us to bring the JCB Paint brand to life on the new tub packaging – designed to appeal to the target audiences, communicate the paint's unique properties, and to be closely aligned with the JCB brand.
Our solution, with its distinctive black and JCB Yellow livery, simple iconography and clever wording will ensure impact on-shelf and will launch JCB Paint as a genuinely credible alternative to existing brands in the outdoor paint sector.
We created several design elements which included a full set of icons, a compelling strapline 'One Tough Paint. Everything Covered™' and the phrases SUPERTOUGH™, SUPERVERSATILE™ and SUPERSAFE™. All of these elements were put to work in on-pack labelling and in B2B and B2C promotions including: press advertising, in-store POS (gondola ends, palette wraps and counter top displays), online banners, marketing emails and product literature.
JCB Paint enjoyed a highly successful press launch in London earlier this year and hopes to be in-store early in 2018. So, if you have a garden shed, bench, summer house, wall, barn, or any other outdoor surface that needs a fresh coat of paint, look no further than remarkable JCB Paint – available in 12 carefully selected colours and hopefully in a store near your very soon.