Gifts for geeks 2016
//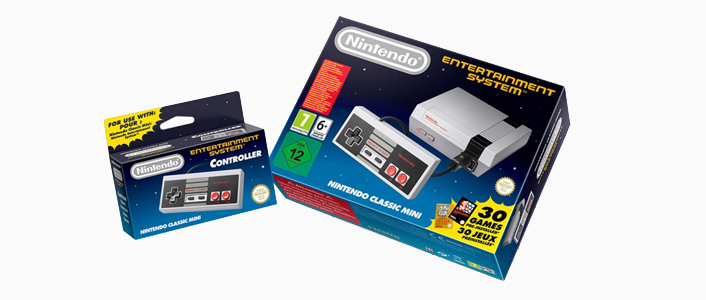 Us developers love our tech (like most geeks), and with Christmas just around the corner we've put together a wish list of all the tech we'd like to see in our stockings. So, if you're searching for "gifts for geeks" look no further; this helpful little list is what you're looking for (and if not, at least Santa knows what Damon, Seb and I would like for Christmas – assuming we've all been good).
If you were born in the 80's and grew up in the 90's, chances are you've played on an original Nintendo NES…? Nintendo have released a mini version of this, loaded with 30 classic games including Mario, Mario Kart and The Legend of Zelda. This will provide hours of gaming fun this Christmas ('if' you can get yours hand on one…).
They proved so popular that shops sold out within hours. If you have the chance to get one, GET ONE!
As geeks, we are are always wanting to tinker, play and build, and with the third-generation Raspberry Pi we'll do just that (for hours)… The credit-card sized single board computer allows you to build just about anything you want. Some of the projects out there include an LED cube audio visualiser, an energy efficient Plex server, a digital photo frame and yes, a classic gaming console emulator.
Home automation has become huge in 2016 and it's only going to become more and more popular.
The Hive Smart Thermostat allows you to control your central heating away from the home on your smart phone meaning it's always nice and warm when you get in. You can even set it up to turn on, or off, when you are at a certain distance from your house…clever eh?
The Smart Thermostat has the added benefit of being able to save you money as you'll no longer have the heating on when you're not there. With Hive, it knows exactly when you're home.
I get mine installed in January.
As a geek, I live on my computer, and whilst I'm currently using an old Dell I got off eBay, I would LOVE an Intel NUC. It's small, quiet and extremely powerful. This would be perfect for a server, or if you have a project that needs more power than the Raspberry Pi can offer, this is the PC to get.
I pride myself that you can get wifi signal throughout the majority of my house, however there are still a couple of places where it doesn't work. The dreaded dead zones… Yes, I could just add a range extender, but I'd much rather have the cool new Mesh Networking Routers from Eero. They're more secure, smaller and much better looking than my current router AND it'll provide much better WiFi coverage inside and out, without any dead zones or dropouts.
Find me a geek that doesn't like playing a retro 16 bit game. I love playing them. A room full of developers should have one of these mini arcade machines to provide some light entertainment when you need time away from your screen.
A modern take on the classic scaletrix racing set I used to have as a kid. With the Anki overdrive you control the cars with your smart phone, battle and use weapons on each other.
That's my wish list, however Damon and Seb have a couple of other items they'd like to recommend:
The Raspberry Pi's smaller sibling, at only £4. If you want an extremely cheap way to introduce someone to programming or a project that only needs a very small computer, the Raspberry Pi Zero is the PC for you. – Damon
A hand-held 3D Printer. It works in much the same way, heating plastic filament and extruding it, only with this device you can create objects totally free-form. You can literally draw in 3D with it.
Parrot Bebop Drone 2 retains many of the popular features of the classic Parrot product, including a high definition 14 megapixels fisheye camera, with amazing digital 3-axis video stabilisation to get the clearest shot, plus 8GB of internal storage for your precious photographs and video files. The brilliant new Parrot Bebop Drone 2 additionally incorporates a new 2700mAh battery, cleverly built into the streamlined body, that provides a continuous flight time of up to 25 minutes, more than doubling the previous duration.
A spherical image or movie that can be easily taken in one shot. The camera can be freely moved and viewed 360 degrees, as well as edited and shared.
Spectacles are sunglasses that Snap! Tap once to make a memory — from your perspective. Then, relive it later in Snapchat. Not readily available so you might struggle to find them for Christmas.